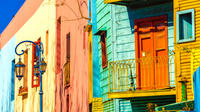 211 €
Private Full-Day Walking Tour in Buenos Aires
Enjoy a full day walking tour visiting the highlights of Buenos Aires: La Boca, San Telmo, 9 de Julio Avenue, the Obelisk and the Corrientes Av. We will enjoy the first underground in South America, the line A. We stop at Colon Theater one of the most famous opera houses in the world.
Your tour begins with pick-up from your hotel or the pier. You'll start visiting La Boca and Caminito. For football lovers, we can go to Boca Jr's Stadium. You'll then visit San Telmo and the market there (market is closed on Sundays). You'll then visit 9 de Julio Avenue, the Cavanaugh
Building, the Obelisk and the Theaters on Corrientes Avenue along with the famous libraries there. From there, you'll visit the neighborhood
of Puerto Madero, a renewed dockside area in Buenos Aires . For those of you who chooses the morning tour, you'll now stop to enjoy a delicious buffet lunch.

After lunch, your tour continues with a visit to La Recoleta Neighborhood's Cemetary and famous tombs. You'll stop in the Colon Theater,
Plaza de Mayo, the Government House, the Cathedral and the Cabildo Avenida de Mayo. For those doing the afternoon tour, your tour will end with a delicious dinner at Tortoni Cafe.

Please note: If you´ve chosen the afternoon program, dinner is included in a traditional café, called Café Tortoni.