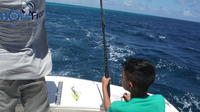 1 €
Private Full-Day Fishing Charter in Nassau
Experience an 8-hour private fishing charter on a 48-foot Chris-Craft boat that is catered to your interests! Experience deep sea fishing on the ocean's edge, light tackle fishing over shallow reefs, snorkeling at the most beautiful coral reefs and sightseeing during your charter. You can decide how you want to use your time. All bait and tackle is included and there are no permits or licences required.
It is your boat for the day! The boat will pick you and your group up from one of three possible pick up locations depending on where you are staying. Once boarded, you will meet your crew, talk about your interests for the charter and set off from the dock. Your mate will start baiting lines right away and your captain will steer your boat towards the fishing grounds. If you are deep sea fishing, you will travel about a mile and a half offshore to where the shelf drops off to deep water. This is where the lines will be tossed over and you will troll at varying speeds depending on what species of fish you are targeting. You will target migratory species that are typically larger than reef fish such as mahi, wahoo or yellow fin tuna. If you are fishing inshore you may troll over shallow water or anchor near a reef teaming with fish to catch smaller species of fish that inhabit these areas year round.

Whether you are an experienced fisherman or a newbie to this sport, your mate will be there to offer as much or as little assistance as you may need. Bait and tackle for any of the styles of fishing mentioned will be provided for you. Snorkel gear in a variety of sizes is also provided if you decide to take a dip and enjoy the view under the water. A cooler with ice and bottled water will be on board as well.