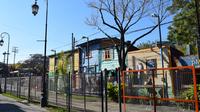 127 €
Private Buenos Aires City Tour from Cruise Terminal
Visit the highlights of eclectic Buenos Aires on this city overview where you will explore the history, architecture, and culture of the city. Your personal tour guide will take you through the contrasting parts of the city teaching you everything you need to know. Starting the day in Plaza de Mayo, the main center of the city, you'll first learn about the city's rich history and tumultuous politics. Next, visit the luxury neighborhood of Recoleta  where you'll discover why Buenos Aires is called "the Paris of South America".  Learn about the people who shaped the city as you visit the world-renowned Recoleta Cemetery, where Eva Peron is buried, along with many other iconic Argentines. The guide will also take you to the bohemian neighborhood of La Boca, where Tango started. Finishing the day immersed in Argentine culture.
Explore Buenos Aires highlights on this exciting 5-hour Buenos Aires tour . Known as the Paris of South America, the city has famous attractions like the Government house, from where Evita Peron used to talk to the people.The Metropolitan Cathedral, the church where the Pope Francis used to celebrate mass.Tango, the music which identifies Buenos Aires started 150 years ago in the colorful quarter of La Boca.The upscale neighborhood of Recoleta, full of French mansion sand  a guided visit to the famous cemetery of Recoleta is included, visiting Evita Peron´s grave. During this comprehensive tour, your tour guide will provide you a complete introduction about our history, our economy and our culture. Our tour guides are licensed by the Buenos Aires Government.

During this tour, you will visit:

Plaza de Mayo (political center of the country)
Government House (known as Pink House, from outside)
BA Metropolitan Cathedral (guided visit inside)
La Boca - Caminito (the old port where tango was born)
San Telmo (old area famous for its antique stores - and flee market Sundays -
Puert Madero (the newest district dedicate to the women)
9 de Julio Av. (the widest avenue of the world)
Obelisk & Opera House (both from outside)
Recoleta Cemetery (guided visit including Evita's grave and an introduction to her life)
Palermo Gardens
Same places such us La Boca, Plaza de Mayo and Recoleta, include a short walking
Tour will end at approximately 2pm back at your port terminal.