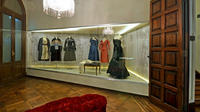 110 €
Private Buenos Aires City Bus Tour with Evita Peron Museum
Enjoy a seat on this 4-hour bus city tour, to enjoy the best of Buenos Aires city: La Boca, San Telmo, 9 de Julio Avenue, the Obelisk, Plaza de Mayo, The Government House, the Cathedral and the Cabildo, Avenida de Mayo, Palermo, La Recoleta, the Recoleta Cemetery, Puerto Madero and more. After that, there will be a 45-minute visit to the Evita Peron Museum.
Enjoy a 4-hour city tour visiting the best of Buenos Aires. We will include 9 de Julio Avenue, Colon Theatre, The obelisk, Diagonal Roque Saenz Peña Avenue then to Plaza de Mayo: where we make a stop and visit Buenos Aires Metropolitan Cathedral. Then on to visit San Telmo town, Parque Lezama, and La Boca: a guided tour around Caminito and craft fair. Here you will have free time to take photographs. There will be a trip around La Boca Port: Puerto Madero and Retiro towns. Palermo town. Bosques de Palermo (aka Palermo Woods) and the Galileo Galilei Planetarium, the Monument of the Constitution and the Four Argentinian Regions: Recoleta town (National Museum of Fine Arts, the Nuestra Señora del Pilar Church, Recoleta Cemetery). This marks the end of guided tourist circuit.
We will make a visit to Evita Peron Museum to know more about the history of Eva Peron. Called "Casa Carabassa" the headquarters of the Institute and Museum, houses on their facades and inside the memory of the work done by Evita. It was declared a national historic site by Decree 349/99, site of cultural interest by resolution 187/2000 of the Autonomous City of Buenos Aires City and a national historical monument by Decree 231/07. It was built in 1923 by the architect Estanislao Pirovano, as detached house. In 1948 he bartered his destiny to be acquired by the Foundation for Social Help María Eva Duarte de Peron, settling there Home No. Transit 2 in order to provide protection mainly to women in situations of deprivation, in a transitional and until the social help "you find work and will provide housing."