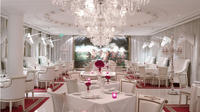 289 €
Private 3.5-Hour Buenos Aires Tango Show with 3-Course Dinner
 Enjoy this private 3.5-hour dinner and show package. Relax in the atmosphere of Bistro Sur during dinner before heading to the well-known live tango show, Rojo Tango. Hotel pick up included for all downtown areas hotels.
Dinner at the Bistro Sur Hotel Faena:
Bistro Sur (Faena Hotel Buenos Aires) evokes the spirit and magic of the Belle Epoque. It offers sophisticated cuisine in an atmosphere inspired by the pâtisseries of Buenos Aires from the beginning of the century. Its chef proposes a menu that incorporates contemporary culinary techniques and concepts in which you will enjoy a perfect evening
Show de Tango en Rojo Tango – Hotel faena:
The best show of Tango Buenos Aires is undoubtedly Rojo Tango, it is a unique experience, since its setting, menu, wine,champagne and the best artists in the Country. The place is small, decorated as a cabaret of the 1900s, you will meet a live orchestra and great dancers. Artists who are part of these scenarios are great talents, both in tango and interpretation of each piece. Rojo Tango is the best without any doubt at representing the Tango history through its show.