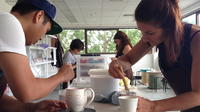 91 €
L'activité n'est pas disponible, essayez une autre recherche !
Pottery Classes in Crows Nest on Sydney's Lower North Shore
Sign up for a series of 2-hour pottery classes in Crows Nest, a Sydney suburb on the Lower North Shore. You'll learn the basics of pottery and take home a ceramic piece you made yourself. This package includes three separate 2-hour classes, with all materials provided. Enjoy personal instructions and demonstrations that help you develop the skills necessary to create your own piece of pottery. No experience is necessary. Select a morning, afternoon, or evening class time when booking.
Silky Shapes Pottery Studio in Crows Nest offers both daytime and evening beginner pottery classes to suit your schedule—this class package includes three separate classes, so choose the time that best fits your needs. Evening classes are a great idea for date nights or girls' nights.

Over your three classes, learn the basics of throwing, trimming, and glazing pottery. In each class, receive demonstrations and continuous instructions to help you improve your skills and work on your piece.

Your three 2-hour classes must be scheduled within the span of three weeks from the date selected to allow time for drying and firing pottery.