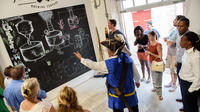 9 €
L'activité n'est pas disponible, essayez une autre recherche !
Pirate Republic Brewery and History Tour in Nassau
Quench your thirst for craft beer and pirate history at the first and only craft brewery in The Bahamas. Go back three centuries to a time when pillaging and marauding were the way of life. Commissioned pirate portraits by renowned Bahamian artist Antonius Roberts provide a dramatic backdrop to stories of The Bahamas in the early 1700's. Nassau was the Pirate Republic!

Then it's on to beer! Tour this 10-barrel brew house, newly-installed in a 125 year old re-purposed, historic warehouse. Touch, feel and smell the grains and hops used in each of the beer recipes. Get up close and personal with the mash tun and kettle. Conclude your tour in the tap room with a crisp, refreshing brew. Tours include a 5% discount in the Pirate Loot Store!
Plan to linger and enjoy a meal from The Galley, Nassau's only gastropub, where craft beer is carefully paired with unique food items. Your tour and visit to the Pirate Republic will certainly give you many reasons to return, often!
A PRBC Pirate or Pirate Wench will greet you, and begin your tour with a lively introduction to the Pirate Republic Brewing Company, a brief overview of its personal pirate history and a breakdown of how our logo brings both excellent craft beer and the history of the Bahamas together. You will then be escorted to our Pirate Gallery where you will be introduced to an extraordinary pirate art collection commissioned by renowned Bahamian artist Antonius Roberts. Using Roberts' dramatic pirate portraits as a backdrop, guests are given an overview of the Golden Age of Piracy and the creation of the Republic of Pirates in Nassau in the early 1700s. Blackbeard, Mary Read, Benjamin Hornigold, Anne Bonny and "Calico" Jack Rackham are covered. 

Then, you will be led into the open aired 'Alley,' where features of the redevelopment and re-purposing of PRBC's historical property are brought to life. This includes a 125-year old warehouse with original wood beams and granite bollard used by cargo schooners a century ago. You will then be led across the alley and into the brewery, where you will be introduced to a member of the brewing staff. You will then be given a brief overview of the brewing process, followed by a tour of the granary where you will be able to see and smell all the different grains and hops used in our recipes. The tour is then moved to the brew house, where the mash tun and kettle are explained. On any given day, the brew house may be actively brewing and guests will be able to see the process close up. The brewery segment will then finish with an explanation of the cellar function. 

You will then be brought back to the Tap Room where you will be served an ice cold PRBC draft beer. Time will be allowed for questions and answers, after which the gift shop will be pointed out where you can use an exclusive tour coupon that comes with your brewery tour ticket. Cheers shipmates!