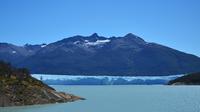 225 €
Pioneros Navigation and Trekking Tour from El Calafate
This is an amazing tour for those who want to travel a rural landscape in the middle of the Patagonia and learn about the history and traditions of a local ranch and, at the same time, to be introduced into an environment of nature and to enjoy a privileged view of the breathtaking glaciers. The Pioneros navigation and trekking tour includes lunch at Nibepo Aike Ranch, a boat trip through the Argentino Lake, a 20-minutes walk through a beech forest and free time at the catwalks of the Perito Moreno Glacier.
The tour begins departing from centrally located hotels in El Calafate at 9.30am. We travel 50km through a rute full of Estancias (ranchs), while traveling our professional guide will make a description of the natives that used to live in that area until we reach Nibepo Aike Estancia, wich is located inside Los Glaciares National Park.

Upon arrival a welcome cocktail accompanied with a table of cold cuts and cheeses is offered. Meanwhile, the kitchen staff will be cooking beef with grilled vegetables (zuccinis, eggplants, peppers, onions and carrots) at the "disco" (a repurposed disc harrow from a farm plow that looks very similar to a wok, but the legs allow it to sit right over an open flame).

After lunch, we will have some free time to enjoy the estancia and then a vehicle will take us 5km to the port where we will board a boat and sail to Playa de Las Monedas. We will navigate through the Brazo Chico and Brazo Rico, two arms of the Argentino Lake. Once we disembark on the beach, we will have a quiet 20 minute walk on the beech forest towards the South Glacier viewpoint.

We will embark again, now facing the south face of Glacier and, while the crew offer a whiskey or vodka distilled in Calafate with Glacier ice, we will enjoy the wonderful views of the glacier.

We will disembark at the Bajo de las Sombras port at 3.30 pm approx and the vehicles will take us to the catwalks of the glacier where we will arrive at 4 pm and we will stay until 6 pm, enough time to walk around taking pictures and collecting unforgettable moments.

We will return to Calafate at 7 pm approximately.