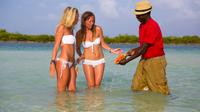 85 €
Pigeon Creek Pontoon Boat Tour and Snorkeling at High Cay
Leave your worries behind as you relax and unwind at Pigeon Creek, in the southeastern part of San Salvador, on this 3-hour tour. In a small group of no more than 10, cruise turquoise waters on a pontoon boat and observe turtles, rays, sharks, and tropical fishes in their natural habitat. Wade on the sand bank in search of starfish and conch, and snorkel the pristine reefs of High Cay.
In the morning or afternoon, make your way to the designated meetup point and greet your guide. Climb aboard a pontoon boat and get ready for an adventure.

As you sail to Pigeon Creek, listen as your guide offers insight into San Salvador and the Bahamas. Visit the monument to Christopher Columbus on the way.

Cruise the mangrove-lined creek, stopping at various spots where your guide shows you the fragile ecosystem of the mangroves and turtles in their natural habitat. Disembark on a sandbank where you can wade and spot starfish and conch, or just sit and enjoy nature. Along the entire route, you may see various species of sharks, rays, turtles and many tropical fish.

From the lagoon, travel over open water to the nearby High Cay where you can snorkel a vibrant reef or just relax on the beach. A light snack including wine, cheese, and fruit is served on board.

Your tour concludes back at the original departure point.