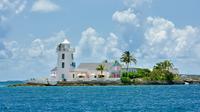 72 €
Pearl Island Beach Day with Lunch and Snorkeling from Nassau
Swim, sunbathe, and sip tropical cocktails during a perfect beach day at Pearl Island, one of the most unique private islands in the Bahamas. Spend the day as you see fit, lounging on one of the two white-sand beaches, enjoying a tasty Bahamian lunch, exploring the marine life during a guided snorkel tour, or just cooling off in the crystal-clear Caribbean waters. Only at Pearl Island Bahamas!
While in Nassau, trade the bustle of the waterfront for time on the beach and take a scenic 20 minutes Nassau harbor cruise to idyllic Pearl Island Bahamas. With iour iconic lighthouse, the island is one of the most unique destinations in The Bahamas.

Upon arrival, the day is yours. Walk to the lighthouse, relax on two pristine beaches, unwind in the shade with tropical cocktails or enjoy a guided snorkel tour along a vibrant coral reef with fascinating marine life. The experienced and highly trained staff will take you and your family on a stunning snorkeling experience just feet away from the island. Relax over a delicious Bahamian lunch at the islands restaurant including oven roasted chicken breast, Bahamian golden fish fillet, Bahamian peas & rice & coleslaw with your choice of a soft drink, and pose for a 6x8 souvenir photo to remember your day - both of which are included in every package.

To round out your day rent a kayak or stand-up paddleboard, explore the fun waterpark and then take a last dip in the crystal-clear Caribbean waters before catching the afternoon boat back to Nassau.

Experience memories of a lifetime which you and your family will always remember!