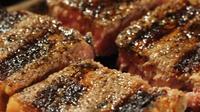 92 €
L'activité n'est pas disponible, essayez une autre recherche !
Parilla Tour
Discover Buenos Aires traditional cuisine with our Parilla (Steak House) Tour and taste the best meat cuts in Argentina. Taste authentic Porteño flavors by going to 3 different Parillas and taste each's specialities, accompanied by the best Argentinian wines. Let your guide take you to the most traditional restaurants of Buenos Aires, away from the streams and discover the best hidden cuisines! Learn about Argentinian Culture and enjoy exquisite meats while meeting locals.
Two itinerary are offered:
You can choose to go for the Palermo circuit, widest district, home to many artists, this modern neighborhood is known for its nightlife and beautiful tree lined avenues. The tour takes place in la Cañitas, most fancy part of Palermo. Starting at 12:00 pm (noon) on Tuesday, Friday and Saturday, and at 07:30 Pm on Tuesday.
Meet up with your guide at the first Parilla (the address will be communicated at the time of booking) , filled with soccer fanatics and supporters. Known for its Choripan (Chorizo Sausage with fresh bread and typical sauce), taste this delicious traditional sandwich, surrounded by local supporters.
Next, head to a Casa de Empanadas (Traditional meat pies) and try some some of the best handmades empanadas (Meat, Cheese, Vegetables, Onions etc).
Then, your guide will take you to one of the best hidden Parilla in the capital. Famous for its fantastic service, this restaurant offers exquisit meats and is known as is historically known as the best amongst Porteños. There, savor mane diferent cuts and kind of meat, while getting to know more about te cooking time and traditions of Buenos Aires.
For dessert, move on to a delicious artisanal "Heladeria" (Ice cream shop), an other Buenos Aires specialty.
Or you can choose the San Telmo circuit, one of the oldest neighborhood, its narrow streets remind that history is everywhere. Its colonial buildings and ancient houses make it nice to wander. Meet up with your guide near the famous San Telmo market at noon (Monday and Wednesday), on Defensa Street (the address will be communicated at the time of booking). Starting at an old fashioned and family institution, taste some home made Empanadas. Then, enter the San Telmo Market and observe the Argentinian butchers in action. Get a Choripan at one of the Market's best place and wander withing the alleys, getting to know locals and traditions.
Afterwards, enter a traditional hidden Parilla where you will be served provoleta (barbecue cheese with spices), cuts of steak, salads and Malbec wine. While enjoying lunch, your guide will tell you the many stories and history of the neighborhood. For dessert, head to a small artisanal Heladeria known for its selection of homemade flavors.