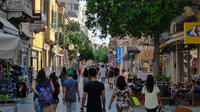 55 €
Nicosia Town Day Tour from Paphos
A full day tour to Nicosia town from Paphos.
You will be picked up from Paphos and driven to visit Nicosia, the capital of Cyprus, to find out about the turbulent history of one of the world's last divided cities. You'll be taken on a walking tour through the partially car-free old town within the Venetian Walls and cross the UN buffer zone into occupied, northern Cyprus.
Embrace the lively modern city life, as well as its history and culture. Enjoy coffee with traditional sweet like a local in a typical bakery and confectionary shop right next to the green line. Rummage through the shops while enjoying some free time.
Your guide will give you its history and low-down as you tick off its best bits, like LaikiYeitonia, LedraStreet, the AyiaSofia Church and the Market Square. You will then be returned to Paphos.
Please remember to take your passport / EU ID card in case you wish to cross the line.