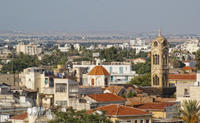 29 €
L'activité n'est pas disponible, essayez une autre recherche !
Nicosia Day Trip from Paphos and Limassol
Discover Cyprus' divided capital of Nicosia and experience both its Greek and Turkish areas on this full-day trip from Paphos and Limassol. Head into Nicosia's walled old city to visit fresco-painted St John's Cathedral and the Leventis Municipal Museum, and enjoy free time for lunch and shopping in the lively lanes and streets. Then, cross the empty 'Green Line' UN buffer zone into the occupied part of north Nicosia to sample its distinctly different atmosphere and see its bustling Büyük Han and Selimiye Mosque, once St Sophia Cathedral. Great for history and culture buffs.
Start your tour with a pickup from your centrally located Paphos or centrally located Limassol hotel. Board your coach and admire inland Cyprus as your guide shares intriguing facts about Cyprus' division into a Greek south and the occupied northern part of Cyprus in 1974
Learn how the move also saw the dissection of the island's capital, Nicosia, into the Greek South (Lefkosia) and Turkish occupied north (Lefkoşa), with a UN-policed buffer zone or 'Green Line' in-between.
In the late morning, arrive in South Nicosia and admire its old town, passing its 15th-century Venetian walls and learning how its origins extend right back to 300 BC.
Enjoy a guided tour of St John's Cathedral, a modest-looking 17th-century church with a spectacular fresco-coated interior. Ogle these vivid wall and ceiling paintings as your guide explains their Biblical themes and how they were painted in the 18th century.
Continue into the traditional Laiki Geitonia district for a guided tour of the Leventis Municipal Museum of
Nicosia
. Explore this acclaimed museum and trace Nicosia's history through its displays of pottery, maps and artifacts from Venetian, Byzantine and Frankish times.
After free time for lunch (own expense) and shopping, cross the derelict 'Green Line' zone into occupied north Nicosia. Delve into the quaint, age-old streets and visit the Büyük Han, a restored caravansary now alive with shops and cafes. Next, visit the Selimiye Mosque, formerly the St Sophia Cathedral, a Gothic church that was converted to a mosque by the Ottomans in 1570.
After your sightseeing, return by coach to the west coast, where your tour ends with a drop-off at your Limassol or Paphos hotel.