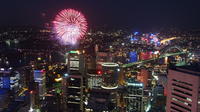 384 €
L'activité n'est pas disponible, essayez une autre recherche !
New Year's Eve at Sydney Tower Buffet Restaurant
Sydney Tower Buffet Restaurant is an ideal place to celebrate New Year's Eve with the whole the family. You'll have more than 50 international dishes to choose from at the buffet, plus enjoy flowing beer, wine, and soft drinks all night (spirits can be purchased). Admire panoramic views of the city from the tower, where you'll have a great view to watch the Sydney fireworks that ring in 2017.
Arrive at Sydney Tower and take the elevator to Sydney Tower Buffet Restaurant for your New Year's Eve experience. 

Perched at the top of Sydney's tallest building, the restaurant provides views of Darling Harbour, Circular Quay, Sydney Harbour Bridge, and more, making it the perfect place to enjoy the city's New Year's Eve firework displays. From your vantage point high above the streets of Sydney, the views change as the restaurant slowly revolves during your meal. The dinner buffet includes a range of dishes to please everyone in your party, and you can sip unlimited beer, wine, and soda until 12:30am. At 9pm, a small fireworks display warms up the harbor, followed by the grand show at midnight to welcome the new year. The colorful extravaganza centers on Harbour Bridge.