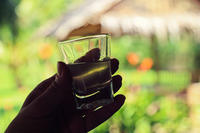 42 €
L'activité n'est pas disponible, essayez une autre recherche !
Native Rum Tasting and Distillery Tour
Nothing is better than native rum from the Bahamas - not even ice cream. Come for the distillery tour to see where the rum is made, smell the aged rum and even get the historical tour of how the place came to be. Taste three different native rums, all while accompanied by your local guide. This tour is a must-do when visiting the Bahamas. Rest assured, you won't be disappointed!
The tour guide will meet you at the designated meeting spot, holding a sign that says "Native Rum Tasting and Distillery Tour." You will be greeted with your free cold bottle of water, complimentary souvenir, Bahamas map, brochure and itinerary. You will then be lead on a walk to the distillery where you'll be greeted and given a full historical tour of the grounds. Next, you'll have the opportunity to sniff aged rum and see where the native rums are made. Now its time for the rum tasting! Enjoy three different, delicious rums.