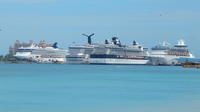 106 €
Nassau Shore Excursion: Snorkeling Tour
Discover the underwater world of the Bahamas on this two-hour Nassau snorkeling tour on a private beach with white sand and soft waves that gently roll ashore. Snorkeling equipment is included along with port pickup and drop-off. The beach amenities include restrooms, showers, beach chairs, and a beachside bar. Guests who are not interested in snorkeling can relax on the beautiful beach and swim in the crystal clear waters.
After meeting your guide at the Nassau cruise port your tour will begin. This Nassau snorkeling tour takes you out for two-hours, giving you an opportunity to truly experience the spectacular sights of each Nassau reef you explore.
You will be taken to a special reef in Nassau. This gorgeous snorkel location is a shallow reef that has lots of colorful sea fans, and you will likely get and up close view of a sea turtle when snorkeling there.
The professional team knows the entire reef system, and they know where to find specific sea creatures. If you have something specific you would like to see, feel free to ask and they will try to take you where you will see one.