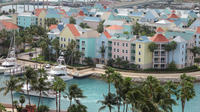 92 €
Nassau Shore Excursion: Sightseeing and Snorkeling Tour
Enjoy a half day shore excursion that includes a historical driving tour of Nassau, a chocolate tasting and time on the beach for snorkeling and relaxation.
You will meet your driver at the Nassau cruise ship terminal, who will be waiting with a nice, clean, air-conditioned full-size van and your complimentary souvenir. The tour will begin with a drive through the historic city of Nassau then on to the Queen's staircase.

The Queen's staircase, Nassau's most visited attraction, was carved out of solid limestone by slaves in the late 18th century. Climb the 102 feet staircase with only 65 steps to the top of Bennet's Hill the highest point in Nassau, access Fort Fincastle or take a photo of the adjacent water tower. Those unable to walk up the staircase can stay on board in the taxi and be driven to the top of Bennet's Hill. You can do light shopping at the mini straw market where you will find authentic handmade goods at bargain prices. You will have 30 minutes at this stop.

Next, get ready for a sweet treat at the Graycliff Chocolate Factory! The Garzaroli family has the best tasting chocolate in the Bahamas and the 20-minute tour of the factory will show you how to chocolate is made. Choose a piece of chocolate at the end from the 17 different flavors.
Afterwards, you will travel west along cable beach with beautiful coastal shores and multi-million dollar Mansions. The Baha Mar Casino and Hotel is the largest and the most exciting resort that you will see during this 15-minute drive. Do you have a camera or a smartphone? Then take a picture at the next stop at, a cave once believed to be a lair for pirates. The cave is now the home of friendly fruit bats. You will have 15 minutes to explore the cave. Then, you will take a 10-minute drive to Nirvanna Love Beach with white sand and soft waves that gently roll ashore. This beach offers great snorkeling just offshore is a 40-acre coral reef known as the Garden. At the beach enjoy a complimentary lunch with a soft drink. The beach amenities include restrooms and showers, beach chairs, and a beach-side bar. Guest who are not interested in snorkeling can relax on the beautiful beach and swim in the crystal clear waters.