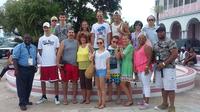 92 €
Nassau Shore Excursion: Half-Day Historical Sightseeing Tour
Explore Nassau on this half-day historical sightseeing tour. Visit some of the cities most famous attractions like the Cloisters of Paradise Island, Graycliff Chocolate Factory and the Pirates Museum. Your local guide will show you around and give you interesting details of the island's history and culture.
Begin the tour with collecting your complimentary souvenir and driving through the historic city of Nassau with the first stop (approximately 15 minutes) at the Bahamas Rum Cake Factory. The factory produces several scrumptious flavors of rum cake like, pina colada, banana and chocolate. Free samples will be available at this stop.

Next, head across the 65-foot bridge that connects Nassau to Paradise Island. Spend 30 minutes at the beautiful Cloisters, walk the slopes down to a gazebo at the water's edge, and take memorable photos of the lovely marble statute Silence. This monastery was built in the 12th to 13th century in Montrejau France by the Augustinian Order and was rebuilt in 1968 by J. J. Castremanne for Huntington Hartford.

The Queen's Staircase will be the next stop! Carved out of solid limestone in the late 18th century, this 102-foot staircase is a must-see attraction. Climb the 65 steps to the top of Bennet's Hill - the highest point in Nassau and access Fort Fincastle built in 1793 by Lord Dunmore. Guests not able to climb the staircase can stay on board and be driven to the top. At the top you will find a mini market with authentic handmade goods at bargain prices. This is a 45-minute stop. Ready for a sweet treat? The next stop will be at the Graycliff Chocolate Factory for about 20 minutes. See how this famous chocolate is made and sample some of the 17 different flavors.

Then after the chocolate factory you will visit the John Watlings Distillery, a local producer of rum where you'II have the chance to try a sample. Next, visit a local fruit stand where you can purchase coconuts, sugar bananas or star apples depending on the season. This will be a 10-minute stop. Across the street is Arawak Cay, commonly known as " The Fish Fry," Goldie's Restaurant is a great place to try authentic Bahamian food free samples of conch fritters at this 15 minutes stop, you will also visit Junkanoo Beach to take photos or just put your feet in the beautiful crystal clear waters of the Bahamas. This is a 20-minute stop.

The last stop of the tour will be at the Pirates Museum. This interactive pirate attraction in the heart of downtown Nassau transports you to the year 1716 where pirates ruled the Caribbean.