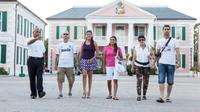 79 €
L'activité n'est pas disponible, essayez une autre recherche !
Nassau Shore Excursion: Guided Historical and Cultural Tour
With a blend of British, Spanish, and West African influences, The Bahamas has a rich history and a cultural spirit unlike anywhere else in the world. Immerse yourself in the stories of rum-runners and pirates of long ago, or gallery-hop your way through Nassau's most stunning artwork. On this historical and cultural tour you will be able to visit heritage museums, historical sites and landmarks. You'll have the opportunity to try local costumes and witness breathtaking views from the fort.
This shore excursion includes stops such as the majestic Governor's Mansion, Fort Charlotte, a heritage museum and the National Art Gallery. You will also have an opportunity to meet and interact with local craft artists at The Museum of Junkanoo and learn about the annual costume festival, Junkanoo Parade. This fun-filled street parade includes music, dancing and costumes in many towns across the Bahamas each Boxing Day (December 26th) and New Year's Day (January 1st). The largest Junkanoo parade happens in the capital New Providence, Nassau.

You tour guide will also answer all tour questions about the island and advise you on where to shop and where to continue exploring the lovely city of Nassau. You will leave this day being fully knowledgeable about Nassau's past and present.