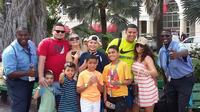 92 €
Nassau Shore Excursion: Cultural Heritage Sightseeing Tour
Explore Nassau on this half-day historical tour. Visit some of the city's most famous attractions such as Fort Charlotte, The Ardastra Gardens, Zoo and Conservation Centre, and the Cave of New Providence. Your guide will show you around and give you interesting details of the island's history and culture.
This 3 and 1/2 hour sightseeing tour will be one of the most memorable experiences for you. Begin the tour with collecting your complimentary souvenir and a drive through the historic City of Nassau and see popular attractions, such as, the pink and white parliament building, established in 1729 or the Magna Carta Court, cut out of solid limestone with it's vibrant red shutters. The first 30-minute stop will be at the Graycliff Chocolate and Cigar Factory. See how this famous chocolate is made and sample one of the 17 different flavors.

Continue on to Fort Charlotte, the largest fort in the Bahamas. The fort was built in 1787 by Lord Dunmore, the former governor of Virginia. Explore the interior chambers and gallon guns with a panoramic view of the Western end of New Providence. You will have 30 minutes at this stop. Next, travel to the Ardastra Gardens, Zoo and Conservation Centre. This mini zoo has more than two hundred mammals, birds and reptiles that are nestled in over five acres of plush, tropical landscape. this is a 30 minutes stop.

Visit a local fruit stand where you can purchase coconuts, sugar bananas or star apples depending on the season. Travel West along Cable Beach and view the stunning coastal shores and multi-million dollar homes. The Baha Mar Casino and Hotel is the largest resort on New Providence. You will have 30 minutes to do some light shopping at the Mimi Straw Market in cable beach and to enjoy a complimentary refreshing fruit daiquiri regular or extra exciting from the daiquiri shack.

Don't forget your camera for the next stop! The Cave of New Providence was once believed to be a lair for pirates. The cave is now the home of friendly fruit bats and a giant throne made of sea shells. After this, if you wish to spend time at the beach you can end this tour at Junkanoo Beach where snorkel equipment is available. It's only a 15-minute walk back to town if you'd like to stay. If not, stay on-board and conclude this tour at the Nassau shopping district.