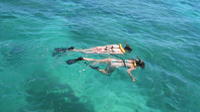 59 €
L'activité n'est pas disponible, essayez une autre recherche !
Nassau Reef Snorkeling Adventure
Snorkel the crystal-clear tropical waters of The Bahamas. Nassau is home to some of the best snorkeling, a lush tropical oasis teeming with aquatic life, breathtaking beaches, and crystal clear turquoise waters. You'll see a variety of tropical fish and other marine life thriving in the extensive coral reef. Choose from three departure times.
The boat will pick you up at Harbour Central Marina. Once on board, you will enjoy a 20-minute sightseeing tour along the historic Nassau Harbour to a clear calm snorkeling location.

After the sightseeing cruise you will reach the snorkel location where you will have a 5-minute safety briefing. You will then be able to jump in the water and spend 2 hours snorkeling or relaxing on the boat before cruising back to Harbour Central Marina.

Snorkel gear is includes as well as cold beverages.