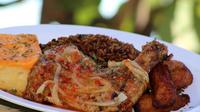 75 €
Nassau Food and History Bus Tour
Sip, sample and see on this 3.5-hour culinary experience seasoned with history and a dash of culture. Experience the taste the Islands while you sample the local exotic cuisine and sip on locally blended spirits and brews. On this bus tour you'll be immersed in the Bahamian culture and you will get to see the unmatched beauty of these islands. You can pound the city pavement just about anywhere in the world, but if you want a real 'down home' island experience that's safe and entertaining then this tour is for you. 
After being collected from your accommodations in the morning you'll spend the day being introduced to the vibrant culture, listening to local music, learning a few Bahamian phrases and eating and drinking like a local as you are transported around the island in air conditioned comfort. 
This culinary and history tour takes you through the city to 6 stops where you will sample the island's delicacies, some being made right before your eyes. Sip on local beers and bush teas, visit a cake factory, a historical museum, and old battle forts. Then end your day with a Bahamian style lunch at a local restaurant.
If you are looking for a tour that combines food, culture and history then this is the tour for you.