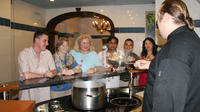 143 €
Nassau Cooking Demonstration and Lunch at Graycliff Restaurant
Enjoy Nassau and the good life from the exclusive luxury of Graycliff! You are invited to a Culinary Experience at Graycliff Restaurant, the Caribbean's first 5-tar restaurant. A highly coveted seat awaits you at the chef's table, presided over by the restaurant's Executive Chef who will lead his guests on a gastronomic culinary trip.


The chef's table lunch will be served in the Graycliff Kitchen and will involve a demonstration of each dish which is then served. Guests will be taught the Executive Chef's culinary secrets and you can have a discourse regarding culinary artistry and Bahamian culinary traditions. Meal includes a welcome glass of champagne and a 3-course lunch accompanied by a glass of wine or non-alcoholic beverage.

Recognized as one of the top dining establishments in the world Graycliff Restaurant serves delicious continental cuisine with a Bahamian flair. The restaurant's award-winning wine cellar, assembled with care over decades is one of the largest private collections of fine and rare wines in the world. The cellar houses over 250,000 bottles from over 400 vintners in 15 countries.