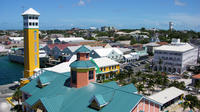 18 €
L'activité n'est pas disponible, essayez une autre recherche !
Nassau City and Country Sightseeing Tour
The Nassau City and Country Tour is an informative exciting tour that take you through New Providence/Nassau and Paradise Island/Atlantis Resort. Visit the rum cake factory and sample delicious flavors of rum cake. Visit John Watling's Rum Distillery and sample locally made Bahamian Rum. This tour will also take you to the Queen's Staircase and the Fort Fincastle to experience the history that surrounds this area. There are many other landmarks and historical sites to see when you book this tour.
After a morning or afternoon port pickup in a fully air-conditioned coaster bus, you will be transported to downtown Nassau where you will begin an informative narrated bus tour. At some points you will be allowed off the bus to explore, shop and take pictures. You will first head east to the city center to view the bust of the first governor general, Queen Elizabeth, and the seat of governance in the Bahamas. Then you will continue east to Paradise Island/Atlantis Resort where you can view the beautiful architecture, Marine life and much more. Continuing east to Fort Montagu, built in 1742 by Peter Henry Bruce. This fort played a significant role in the American war for independence.

Continuing east you will visit Bahamian neighborhoods with British style architecture and some homes valued in the millions. Returning to the downtown area you will visit the Queen's Staircase at Fort Fincastle where you can exit the bus to purchase souvenirs and explore. After exploring Fort Fincastle, you will head to the John Watling's Rum Distillery and sample locally made rum and then to Fort Charlotte.

Next, you will head over to the world famous Fish Fry/Arawak Cay and see where Bahamians go to get delicious indigenous dishes like crack conch, conch salad and more. Just outside of the Fish Fry, there is a beach with white sands and some of the clearest ocean water you will ever see. You will be allowed to exit the bus to dip your feet in and then head back into town for the conclusion of the tour.