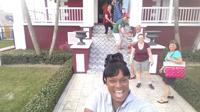 29 €
Nassau Bahamas Highlights Tour
Visit Nassau's historic sites such as The Queen's Staircase, Ancient Fort Fin castle, Parliament and Rawson Square and The Governor's House, In this 3-hour tour you will also visit the Straw Market for souvenir shopping, the Rum Cake Factory, the Atlantis Paradise Island, a beach and sample delights of the Island.
Leaving from the cruise port in Nassau Bahamas you will  board a spacious 15-passenger air conditioned bus that will cruise the streets of Nassau. One of the first sites we will see are the Parliament Buildings located on the Main Bay Street. You friendly local guide will talk about the colors and and what each building represents. Along the way you will see the Court House and what was once one of the prisons on the island, an octagon building. You will move along the streets to the Governor's House and your guide will talk about who lives in the House and their responsibility as Governor. View Graycliff, the National Art Museum and old churches. You will pass the local fish fry where Bahamian food is prepared on the way through the residential areas and beautiful homes. 

The first stop will be at Fort Fincastle where the 17th century fort stands, including handmade artifacts and straw work in an open door market. You will also visit and can walk down the famous Queen's Staircase. There will alsobe  snacks available on sale and restrooms at this location. From the Fort you will visit the second stop at the Orginal Rum Cake Factory where there are free sample of rum cakes and the option to purchase a cake of your own. After the rum cakes you will visit the five star resort Atlantis. At Altantis you are allowed to go inside and view the lobby areas, the crystal court for shopping, the casino and the Marina village. Then there is also a beach where you can dip you toes in the water and take photos.