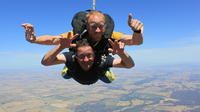 202 €
Nagambie 12,000ft or 15,000ft Tandem Skydive
Experience the ultimate thrill on a Saturday or Sunday! You will be attached to a highly experienced instructor jumping from either 12,000ft or 15,000ft - the highest available altitude in Victoria. Your skydive includes a 15-minute briefing, telling your everything you need to successfully complete your skydive, state-of-the-art parachute equipment, professional one-on-one attention from your personal and highly experienced instructor, 15,000ft skydive with 60 seconds of freefall and first jump certificate and discount voucher! You can also make a permanent memory of your experience by purchasing an HD Video and Stills package (starting from AU$125-own expense).
Tandem Skydiving is one of the most exhilarating ways to experience the thrills and excitement of freefall skydiving. As a tandem skydiver you will receive a 15-minute briefing covering some basic body positions required for the jump.

Then, it's off to our purpose built skydiving aircraft the XL 750. The XL 750 is the largest and fastest jump plane in Victoria. It can take up to 17 skydivers to 12,000ft or 15,000 feet everytime. Once on board the plane, your personal tandem skydiving instructor will attach you to his parachute system designed for two. All of the highly qualified tandem skydiving instructors undergo intense safety training to attain their qualifications.

Skydive Nagambie is the only skydiving center in Victoria which will take you to 15,000 feet. By climbing to this extreme altitude, you get double the freefall time. You'll experience up to 60 seconds of freefall and travel at speeds in excess of 200 kph. If you have purchased the high definition video or photo options, a camera person will accompany you and your tandem instructor on the dive filming this incredible experience for you to treasure and show friends and family (purchasable direct).

The excitement continues when your tandem skydiving instructor opens the parachute allowing you to enjoy a canopy ride, viewing some of Australia's most beautiful combinations of rolling countryside, lakes and wineries as you float down to the landing area to be greeted by your friends.

After you have completed your skydive, you will be presented with a personalized first jump certificate. Your video will then be professionally edited while you wait for you to then view with family and friends in our licensed bar at the completion of jumping.