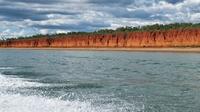 6 €
Multi-Day Fishing Safari from Darwin Staying Aboard a Mother Ship
Book an overnight fishing safari on board a mother ship on this multiday experience from Darwin designed for keen anglers who want to fish the remote rivers of the Northern Territory and fish for barramundi with professional guides. Destinations may include Moyle River, Little Moyle River, Mini Mini system, Marry River, Anson Bay Creeks, and Melville Island. Select a number of nights and the option that corresponds to your group size when booking. Extended tours are available during the 'run-off' period (February to May) and the 'build up' period (September to December).
During your 1-, 2-, 3-, or 4-night fishing trip, you will experience barramundi fishing in rivers and reef fishing where you can target black jewfish, salmon, and snapper. Mother ship safaris are ideal for fishing remote locations of the Northern Territory, as the home-base boat allows for minimum travel each day around the waterways.

You'll depart from Cullen Bay in Darwin. All extended safaris are tailor-made for remote destinations and designed around your preferences and needs. Travel time and departure time can vary depending on destination. Once you set sail, enjoy a cold beverage and admire the beautiful surroundings.

Seasons:
The 'run off' period is the time of the year when the wet season monsoon rains have finished and the fresh water is running off the wetlands, pouring a lot of food into the main river for the hungry barramundi. The 'build up' period is the time of year all big barramundi gather in large numbers at the mouth of big rivers such as Marry, Moyle, and Little Moyle and get ready for spawning season.