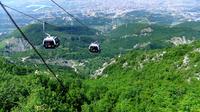 56 €
Mountain Dajti Hiking Tour from Tirana
Dajti Mountain was declared a National Park in 1966, and has an expanded area of about 29,384 ha since 2006. It is under the jurisdiction and administration of Tirana Municipality having previously been under the Tirana Forest Service Department.
Mount Dajti is a mountain and national park in central Albania, to the east of Tirana. Its highest peak is at 1,613 m (5,292 ft). In winter, the mountain is often covered with snow, and it is a popular retreat to the local population of Tirana that rarely sees snow falls. Its slopes have forests of pines, oak and beech, while its interior contains canyons, waterfalls, caves, a lake, and an ancient castle.

After reaching Dajti Express cable car you will start walking towards the Cherry Pass (Qafa e Qershise) who divides two peaks; Dajti and Maja e Tujanit. The trail leads to the peak of Tujani (1,580 m), which is the highest point that can be reached by foot. From the peak, you can enjoy the beautiful panorama of Lake Bovilla locked between the mountains and the remote highlands of Tirana.