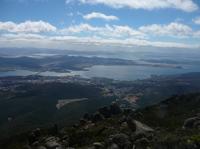 33 €
Mount Wellington Tour from Hobart
Soak up the beauty of Hobart, from the summit of Mount Wellington on this morning tour.
Crowned by alpine vegetation, dusted by snow in winter, Mt. Wellington enables you to glimpse the unfolding panorama of river, fields and the aquatic setting of Hobart town.

On a clear day from the summit, there are spectacular views over the City of Hobart, down to the D'Entrecasteaux Channel and Bruny Island, as you take in the views you will understand why this imposing mountain is close to the heart of the people of Hobart.

Highlights:
St David's Park
Battery Point - charming houses, boutique shops and pubs
Arthur's Circus
Anglesea Barracks - Australia's oldest Army facility
South Hobart - fine examples of early Hobart homes
Cascade Valley - home of Cascade Brewery and Gardens
Pretty mountain town of Ferntree
Pass through various eco systems as you ascend the mountain
Massive rock formation of the Organ Pipes
Mt. Wellington Summit - a harsh rocky alpine environment affording unsurpassed views on a clear day
Witness the panoramic spectacle of Hobart, its surrounding suburbs, towns and vast waterways
Visit remains of the Female Factory - a one time female prison
Macquarie Street
Click on
"View Additional Info"
for hotel pickup list