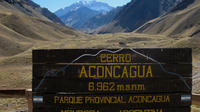 168 €
Mount Aconcagua Trekking Tour to Confluencia from Mendoza
Take in the views of the Andes and enjoy a day away from the hustle and bustle on a full-day trekking tour to Mt Aconcagua (22,841 feet above sea level). You will have a chance to trek to the Base Camp, Confluencia. This tour includes a professional guide, lunch and round-trip transportation.
Your full-day tour starts with hotel pickup from your hotel in Mendoza. Meet your guide and board a vehicle to head to the starting point of the trek. On the way Aconcagua National Park, you will first enjoy a mountain tour through all the small villages of the central Andes between Mendoza and Chile.

We arrive at the park and we will start the trek to Confluencia, the first Base Camp from which expeditions usually start to go the summit of Mt Aconcagua. After a briefing, it is time to start a 6-hour hike of moderate difficulty. You will enjoy unique and amazing views as you climb up. It is a perfect place to see the Andes and enjoy nature.

During the trek, you will have time to stop for a box lunch and continue on to the base camp and end point of the highest mountain in the South American continent. This trek will give you unique views of the summit of Mt Aconcagua and its south face.

It is the perfect, classic hike in the Central Andes for anyone looking for an amazing Andes experience.