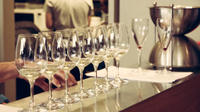 141 €
L'activité n'est pas disponible, essayez une autre recherche !
Mornington Peninsula Winery Tour Including Red Hill Epicurean from Melbourne
Just an hour's drive south of Melbourne, the Mornington Peninsula features a stunning maritime coastline, and distinguished cool climate wineries. Join this incredible tour for a drive through a wonderful tour through the Mornington Peninsula Hinterland enjoying fine foods and wines as well as some fabulous spirits.
Your first stop on this Mornington Peninsula winery tour is Foxeys Hangout, where you will experience the wonder of a sparkling wine blending and disgorgement plus learn about the ancient techniques of this wonderful way of making a fabulous sparkling.

Next, visit Dunns Creek Estate boasting a stunning garden with magnificent roses as well as an orchard that is beautiful to walk through. A variety of animals, including alpacas, add to the scenery. After tasting some interesting wines at Dunns Creek Estate head to Red Hill Epicurean for scrumptious lunch.

Red Hill Epicurean is the result of the renovation of Red Hill's historic cool stores. Red Hill Epicurean is known as the Mornington Peninsula's new and exciting foodie destination. The Red Hill Epicurean showcases the finest local foods and the wine of the surrounding winery region. It is has a kitchen style restaurant and an extensive wine tasting area. You can even buy fresh breads and cheeses.

Next visit Paringa Estate, located in the heart of Victoria's beautiful Mornington Peninsula wine region with Pinot Noir, Chardonnay, Shiraz and Pinot Gris vines planted.

Explore Bass & Flinders Distillery offering a large range of products such as Lemoncello, Grappa, Vodka and uniquely flavored Gins. To complete your tastings, head to Main Ridge Dairy to sample their delicious cheese and enjoy a coffee.

The gorgeous herd of goats on show here are responsible for the wide range of interesting, handmade goats cheeses at Main Ridge Dairy – the only commercial dairy operating on the Peninsula.