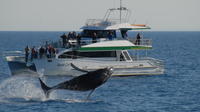 62 €
L'activité n'est pas disponible, essayez une autre recherche !
Morning or Afternoon Hervey Bay Whale-Watching Cruise
Enjoy this four hour whale-watching cruise off Hervey Bay as you glide along the water taking in the stunning sights of Hervey Bay. From mid July through to the end of October, the majestic humpback whales travel through Hervey Bay on their migratory journey to the Southern Ocean. Choose between either a morning or afternoon departure and sit back and relax with a bit to eat as you enjoy this incredible whale-watching experience.
After departing from your hotel, head towards Urangan Harbour where you will begin your four hour whale-watching cruise. As you leave the harbour, sit back and relax as your leisurely sightseeing cruise of Hervey Bay begins. Make sure to bring your camera with you as you take in the incredible sights and scenery of Hervey Bay.

As you glide along the water, enjoy a delicious morning tea or afternoon tea provided to you on-board as you position yourself on one of the four viewing decks. If you have chosen the morning departure you will also enjoy a delicious light breakfast. With four different vantage points to choose from, you are guaranteed to have the best possible chance of spotting the incredible majestic whales.

With one of the largest number of whale sightings each year in Hervey Bay, you are guaranteed to spot many whales along the way. Enjoy live commentary throughout your cruise as your captain points explains the migratory journey and points out many whales along the way. If you're lucky you may even see acrobatic moves as the whales breach out of the water in a playful manor.

With wheelchair and pram access, this whale watching cruise is for everyone.