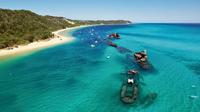 140 €
L'activité n'est pas disponible, essayez une autre recherche !
Moreton and Stradbroke Island Scenic Flight
On this 60 minute adventure flight in your own private aircraft, your friendly pilot will take you to North Stradbroke and Moreton Islands. Enjoy aerial views of the largest sand islands off the Brisbane coast, with crystal clear waters.
Take an adventure flight up the sandy beaches of Moreton Island, see the Tangalooma wrecks from the air or just keep an eye out for the perfect fishing spot.

You pass the coast line at the Cleveland Lighthouse, entering Southern Moreton Bay heading for the town of Dunwich on North Stradbroke
Island. From here you will be taken towards Moreton Island and the resort town of Tangalooma, where you will enjoy spectacular views of the Tangalooma ship wrecks and the marine life that live in the crystal clear waters. From here you will be flown to the ocean side of the island, where the migratory path of the humpback whale may lead to an encounter with one of the gentle giants of the sea*. Passing Point Lookout back on Stradbroke Island, enjoy a low level flight along the beach before passing over the multi-coloured cliffs of the only active sand mine in the Brisbane region. Departing Brisbane you get to see the true beauty of Queensland's East Coast with no hassle to get out of town. Whether you are staying only for a short time or you are in Brisbane for longer this tour will suit you. Flights depart and return from the Terminal Building at Brisbane Archerfield Airport making this a convenient and easy departure point.

* Whale season is between July and October, due to the short time frame of the flights, we are unable to guarantee sighting of whales.