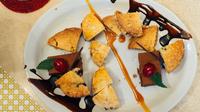 72 €
L'activité n'est pas disponible, essayez une autre recherche !
Mendoza Night Out: Tapas, Wine and Ice Cream
Yummy tapas, local wines, beers with new friends, and a stop at a favorite ice cream shop — what more could you want? Find out how real Mendocinos spend their ultimate night out on this tour that will show you city life after dark.
There are lots of ways you could spend an evening in Mendoza as a visitor, but we want to show you the real Mendocino nightlife! This is your chance to experience some local life, as you eat and drink at favorite local hot spots.

We'll start your tour with a meal at one of Mendoza's hottest restaurants, located in the heart of the city. You'll dine on a tapas dinner that combines the classic flavors of the region with local wines (that's what Mendoza is known for, after all!). We'll take our time eating and drinking, warming up for what's coming next on our night out.

After we've dined, you might start thinking about going for some drinks, but wait! Dessert comes first, and a typical Italian ice cream is a must in this city.

We'll head to one of Mendoza's oldest and most traditional ice cream shops, that's been run by an Italian family for over 80 years. This kind of place shows the strong European influence that exists in Mendoza, and how many European customs have landed in this part of the world. We'll see where many local families go for a touch of sweetness before bed, and get to share that moment with them. If you aren't sure which ice cream to try, we recommend the dulce de leche — always a good option!

Finally, your Mendoza tour will lead you to where the action is: Aristides Villanueva Street. You'll be immersed in "the street of a hundred bars," where locals go for drinks and conversation with friends and strangers. While you'll see no one here before 10pm, after that, it becomes by far the busiest street in Mendoza, where locals come in search of good cocktails after dinner — just like you.