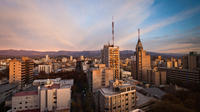 21 €
Mendoza City Sightseeing Tour
We will tour both the old and new parts of Mendoza city, a journey through the history and culture of the people who transformed a desertic area into a oasis, full of green spaces. This morning half day tour ends at Our Lady of Lourdes sanctuary, from where we can get a spectacular view of the foothills of Mendoza.
This sightseeing tour begins in the foundation area: the historical site where, in 1561 Don Pedro del Castillo founded the city. Currently, the milestone is remembered with a museum and a commemorative square. Visit the Cathedral, the Basilica of St. Francis, the former Banco Hipotecario (now Ministry of Culture and Tourism), the Andean Trade and former Bank of Mendoza (now Contemporary space of art), Independencia and Spain squares, the civic district with the Government House and a famous Enoteca. Swing by the prestigious street Emilio Civit, a residential area that leads to the General San Martin Park. Enter through the magnificent gates to the horses of Marly, until reaching Cerro de la Gloria, where the Monument to San Martín and his army is located.

To end this great tour, visit the Virgin of Lourdes sanctuary, from which you can enjoy an amazing view of the Mendocinean mountains.