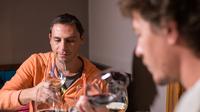 50 €
L'activité n'est pas disponible, essayez une autre recherche !
Mendoza Cheese and Wine Tasting
Newbie to the wine scene? Seasoned oenophile? Just someone who really really likes the vino? Go behind the scenes of Mendoza's wine industry with a local connoisseur as you taste some of the best wines and cheeses in Argentina.
We say Mendoza, you say wine, right? And if you did, you'd be right! Argentina is the fifth largest wine producer in the world and Mendoza makes over 70% of the national product — which is why we want to take you on a wine tour to try the best of the best.

Your Mendoza tour will start at one of city's most important wine shops, where a local wine expert will be waiting for you. Once inside, your private wine guide will give you all the info you need to know when it comes to local wines: what to buy, how much to spend, how to recognise the good stuff, why some wines are more expensive than others, and why you should — or shouldn't — buy it.

After you've browsed the wine offerings, we'll escort you into a private tasting room, where you'll have a one-on-one with your wine expert while tasting four of Mendoza's best wines. You'll be led through the basic steps of tasting wines, and learn about the history of Argentine wine production, the terroir, the bouquet, and much more. No interruptions, no wine-snob speeches, just you and personal wine expert tasting delicious vino!

And because you can't enjoy wine without a few snacks, we'll pair some yummy local cheeses with your samples, all of them selected specifically for this tasting.