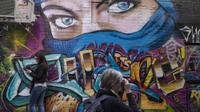 32 €
L'activité n'est pas disponible, essayez une autre recherche !
Melbourne Laneway Photography Tour
Experience the best of Melbourne on this 2-hour small-group laneway photography tour. Wander through hidden streets and laneways in the heart of Melbourne as you discover the Gothic and theatrical edge of this incredible city, with award winning photographer guide, National Geographic Traveler Magazine - Best Travel Pictures of 2011; Jaime Murcia will be with you along the way teaching you skills along the way.
After meeting your guide at the State Library of Victoria, make your way down the iconic laneways of Melbourne where you'll come across perfect photo opportunities including street art, bustling side streets and cafes as well as the incredible architecture displayed throughout the city.

Your professional photographer guide will be with you along the way offering advice, encouragement as well as technical assistance with aperture, shutter speed, depth of field and learning to visualize an image.

This tour is for those of all skill levels, whether you are looking for an introductory lesson on photography or if you're a professional photographer with a great digital SLR, you'll receive expert assistance along the way.