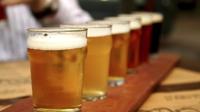 98 €
L'activité n'est pas disponible, essayez une autre recherche !
Melbourne Inner City Brewery Tour
If you're looking for the ultimate beer tasting in and around the most livable city in the world, this inner city brewery tour provides everything you need – including a designated driver so you can do all the tasting you want. This inner city brewery tour takes you to four separate Melbourne breweries, and provides you with lunch and plenty of beer at each venue.
Your local guide will pick you up at St. Pauls Cathedral (opposite Fed Square) at 10:30am

Stop 1: Carlton and United Breweries
Tour the working brewery itself, with help from their experienced guides. Take a behind-the-scenes look at a variety of production locations, including the bottling line, returning to the Brewhouse to sample some ice-cold, brewery fresh beers and lunch in the beer garden.

Stop 2: Moon Dog Brewery
Quirky furniture, a range of beers second to none and hospitality that makes everyone feel at home, this is a one of the kind tiny brewery that needs to be visited by every self respected beer drinker. You'll leave this place wanting to set up your own brewery.

Stop 3: Clifton Hill Brewpub
Located in a historical hotel building that has been serving beer lovers for over 100 years Clifton Hill Brewpub is a beer-lovers paradise. Not only do they serve great beers on their 16 taps, they also make their own. Here you can get up close and personal with all their equipment.

Stop 4 – Temple Brewery
At Temple, they worship beer. They use traditional techniques and brew using the best ingredients to produce beer worthy of your devotion. Sample the best Temple has to offer with a wheel. 4 x 100ml samples and a side of salted caramel popcorn.

Drop off:
Beer Deluxe at Fed Square or CBD venue of your choice.