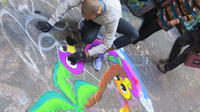 64 €
L'activité n'est pas disponible, essayez une autre recherche !
Melbourne Food Walking Tour Including Breakfast
Start your day with breakfast at one of Melbourne's great cafes. Take a 3.5-hour walking tour through the city laneways, arcades and streets to some of great foodie locations. Discover some of the best places to shop, drink and eat.
Meet your guide for breakfast on Melbourne's, Flinders Lane. Enjoy a walking tour through Melbourne's famous laneways, arcades and streets following breakfast. Discover some of the best bars, restaurants, shops, cafes and coffee roasters along the way. Try rooftop honey, coffee, chocolates and hot chocolate, all included in this tour. Stop and shop along the way as you own personal Melbourne foodie shows you around Melbourne's restaurant scene. Want to know where to eat and dine in Australia's foodie capital, then this tour is for you. This breakfast tour is a fantastic way to check out the best places to eat as well as see some of Melbourne's great street art and laneways.