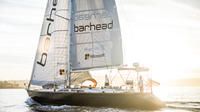 60 €
Magnetic Island Twilight Sailing Cruise
Jump on board a 58-foot sailing yacht for a gentle sunset sail in the magical waters surrounding Magnetic Island. Enjoy a glass of Tamburlaine organic wine or beer with some delicious cheeses while you kick back and relax on a beautiful sailing yacht.
Your 58-foot sailing yacht is perfect for a twilight cruise. She's a beautiful 58 foot sailing yacht with two deep cockpits and a large foredeck with plenty of space for everyone. For twilight cruises numbers are limited (up to 12 guests) to ensure a very personal service for all guests on board.

There is a selection of different Tamburlaine Organic Wines to try which could include a Vintage Blanc de Blanc, Sauvignon Blanc and a Petit Fleur (Rose). Guests can sample one or two different wines during the cruise or for the non-wine lovers there is a selection of premium beers or soft drinks on board too.  Maximum two drinks per person.

Also available is a selection of delicious cheeses to enjoy with the drinks at sunset.