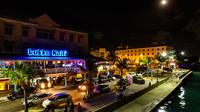 63 €
L'activité n'est pas disponible, essayez une autre recherche !
Lukka Kairi Dinner Package in Nassau with Transportation
Lukka Kairi is dedicated to bringing the flavors of the islands to your table - not only in food and cocktails but also in spirit, with live music and decor inspired by a colorful history of pirates and rogues. As much as possible, all ingredients on the menu are sourced locally from the bountiful islands and clear waters. The meal is put on by Executive Chef, culinary producer, food stylist, and recipe developer Monica Hutchinsonwho is a gastronomic Macgyver of sorts. Initially based out of New York, Monica has styled food for the likes of Bobby Flay, Emeril Lagasse and Martha Stewart.
Your evening will begin with pickup from your Nassau hotel. The transfer from your hotel to the restaurant will make the experience a complete one. You will be welcomed at your hotel on time at 7:30pm and you will be pickup up at the front of Lukka Kairi at 11pm for your return. Your professional bilingual representative will make sure your transport is easy and enjoyable.
You can choose between two options for a 2-person dinner or a group dinner intended for groups of 15-30 people.
The dinner for two includes the following menu items:
Shrimp and Grits
Grilled Pork Tenderloin with slow roasted tomatoes and cippolini, black eyed peas and parsley chimichurri
Crispy Broccoli
Peas and Rice
Coconut Cheesecake
Guava Duff
The group dinner includes the following menu items:
Conch Fritters
Catch of the Day
Drunken Flank Steak
Crispy Broccoli
Roasted Cauliflower
Mac and Cheese
Coconut Cheesecake
Chocolate Mousse
Guava Duff