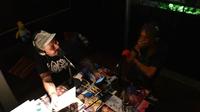 34 €
Live Radio Talk Show Experience in Buenos Aires
Prepare yourself for a truly unique experience. Become a part of a 2.5 hour radio show in Buenos Aires, Argentina. Share experiences and valuable information with travelers and hosts, while having lunch with mate, empanadas and wine. Have fun in an easy-going environment, hosted by people who love to travel and provide lots of interesting tips about Argentina. The show takes place on an online radio network, so you can have your family and friends listen to you. Drinks, food, pictures and the show recording are all included.
This experience will take between 2.5 and 3 hours, starts at 11:30am and ends at 2pm. During the show there will be a series of talking points related to culture, travel and experiences. Traditional Argentine-infused mate tasting will take place and lunch will be provided (empanadas or salad, and water/wine). The radio is located in the Nuñez neighborhood with lots of transportation available in the area.

The group that will be part of the show will meet at 11:30am at the recording studio. After setting up (briefing on radio dynamics, reviewing talking points, meeting the rest of the group and ordering food), the show will start at 12pm. Actual show duration is 2 hours, divided into 5 blocks, ending at 2pm. Talking points can be arranged before the show starts, so uncomfortable or controversial topics are not included, to enable an interesting, fun and rewarding experience. The show will be hosted in English, Portuguese or Spanish depending on the participants and audience. All pictures and recordings will be shared with all the participants.