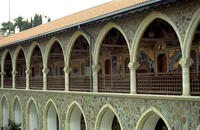 69 €
L'activité n'est pas disponible, essayez une autre recherche !
Kykkos Monastery and Troodos Mountains Day Trip from Paphos and Limassol
Immerse yourself in beauty of the Troodos Mountains and Kykkos Monastery on this full-day trip from Paphos and Limassol. Traveling by coach with an expert local guide, stop for an included Cypriot breakfast before climbing high into the pine-clad mountains and visiting Kykkos, Cyprus' richest monastery, to see its exquisite mosaics, frescoes and icons. Enjoy free time for lunch (own expense), and get a glimpse into age-old Cypriot life at small mountain villages, stopping at a pottery workshop and a herbal shop to sample teas nourished by the pine-scented air.
Start your tour with a pickup from your centrally located Paphos or Limassol hotel. Board your air-conditioned coach with your expert guide and watch the passing scenery as you travel inland to the village of Arsos.
Stop at a coffee shop for an included Cypriot breakfast of staples such as fresh bread, yoghurt and coffee. Then, continue into the foothills of the Troodos, the forested mountains that reach almost 7,000 feet (1,952 meters) in the west and center of Cyprus.
Wind through pine-clad slopes to the Tzelefos Bridge, a Venetian-built bridge set in woodland. Take photos of the arched bridge and learn how waiting points at either end indicate its importance as a medieval trading route.
Climb higher along twisting mountain roads and past tiny villages to Kykkos, Cyprus' richest monastery, whose roots stretch back to the 11th century. Head inside to admire the exquisite frescoes, mosaics and artifacts that grace the church, corridors and museum, and learn about its fascinating history.
Afterward, continue to the pottery-making village of Foini. After free time for lunch (own expense), visit a pottery workshop to see the clay pots still made here using techniques passed down through centuries.
Finish at a herbal shop and try organic herbal teas made from herbs grown in the foothills. Taste infusions made from plants such as wild olive and basil before returning to your coach.
Relax on your drive back to the west coast, where your tour ends with a drop-off at your Limassol or Paphos hotel.