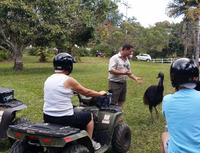 224 €
L'activité n'est pas disponible, essayez une autre recherche !
Kuranda Skyrail Rainforest Cableway, Exotic Fruit Orchard and Golden Drop Winery Day Trip from Cairns
Experience the awesome Kuranda Skyrail as you soar gently over World Heritage-Listed rainforest with sweeping views of the Coral Coast. Visit Barron Gorge and its spectacular waterfall. Ride on lonely tracks with owner and rainforest guide on private property nestled in world heritage listed rainforest. See the landscapes change as you drive towards the savannah region and wineries. Dine on gourmet cuisine at a well-renowned local coffee plantation, photograph and observe rare native rock wallabies and ancient granite formations. See endangered southern cassowary, exotic birdlife, kangaroos and many more Australian native species in their natural environment. Photograph the sunset under the coconut palms on the beach before returning to Cairns.
Departing Cairns, expect to be blown away as you gently sail above World Heritage Listed Tropical rainforest towards the Atherton Tablelands on the amazing Kuranda Skyrail with panoramic views of the Coral Sea. Take in the sights of Barron Gorge and its spectacular waterfall.

Exit Barron Falls Station on your Skyrail adventure, and be met by your registered guide who will take you on an exotic, fun and historically educational tour through his very own 165-acre tropical oasis. This part of the tour is on your very own quad bike geared low for your safety and touring pleasure. See endangered species of fauna and flora as you are guided safely within this 165-acres of private property nestled in the oldest tropical rainforest on earth and surrounded by the magnificent Barron Gorge National Park. You will also have the chance to taste some rare bush foods and exotic tropical fruits that will enlighten your tropical experience, away from the scripted commercialism of large rushed and crowed tours.
Now it's time to return to the Barron Falls Station for the next leg of your exciting tour to Kuranda Village, here you can choose to spend time exploring the villages attractions.

Continuing on, begin to see contrasting changes in the landscape as you drive towards the Savannah Region and dine on fine cuisine for lunch at a well-known working Coffee plantation/restaurant situated in Mareeba, offering a beautiful backdrop looking over the peaks of the Great Dividing Range. The restaurant is situated in the middle of 85,000 Arabica Coffee trees producing some of the best flavored Tableland coffee.

After lunch move onto Granite Gorge. Like no other place in the world. The sheer size of some of these granite boulders is overwhelming. The rocks form vast irregular shaped boulders and offer spectacular views of the volcanic rock terrain. Here you will be able to observe and photograph up close the rare Mareeba rock wallabies, endemic to this area alone, providing a perfect photo of Australian outback culture.

Now it's time to explore Golden Drop Mango Winery. A growing large scale tropical fruit winery on a working mango plantation. Here you can sample and purchase your choice of lovely refreshing tropical Mango Wines, together with Citrus Cellos, Mango Port, and Golden Mango liqueur style wines. A unique locally owned 100% Australian company.

Finally take the inland road back down towards Port Douglas via the small outback timber town of Mt Molloy. Watch the landscape turn from savannah to rainforest in just 30 minutes as we wind our way back to the coastal fringe and the heritage listed coastal drive towards Cairns. If time prevails, tapas under the coconut palms by the sea at Palm Cove will make a great finish to your day.