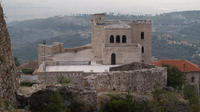 39 €
Krujas Castle Half Day Tour from Tirana
Kruja a small characteristic town perched on a hill, center of Albanian resistance against the Ottoman Turks under national hero Scanderbeg. Scanderbeg kept Turks from crossing into Western Europe for 25 years, thus earning the title "Protector of Christianity" given by the Pope of the time.

From Kruja, travelers will find a magnificent view toward the valley and further to the Adriatic Sea.
Start your walking tour of Kruja visiting Kruja's castle, which was the center of Skanderbeg's (National Hero of Albania) battle against the Ottoman Turks and today it is the center of tourism in Albania. Then, see Skenderbeg's museum, which contains objects dating back to Skanderbeg's time. The exhibits have been arranged in a way that chronicles his life and military feats. Continue walking through the narrow streets of the medieval well preserved Old Bazaar, which has a wonderful selection of authentic antiques and souvenirs and you can buy traditional Albanian costumes, books, musical instruments, and different items from the communist days. This tour will end in Tirana with a drop off at a hotel.