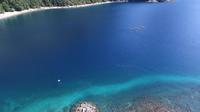 89 €
L'activité n'est pas disponible, essayez une autre recherche !
Kayak Nahuel Huapi Lake Half-Day Small Group Tour
Book a kayak Nahuel Huapi Lake half-day small group tour to experience the region from another point of view! Paddle on the Nahuel Huapi Lake and discover the landscapes of the region from the water. Going through the different kinds of panoramas, you will be able to see waterfalls, beaches, mountains, and explore Andean scenery. Choose either the 9am or 1pm departure time when you book.
You will be picked up at your lodging at 9am or 1pm, and then driven towards the Circuito Chico area, which is 20 km (12.5 miles) from the center of our beloved city of Bariloche. On the way to the starting point of the journey, you will pass by the renowned Punto Panorámico, the famous Hotel Llao Llao, and Puerto Pañuelo, and you will pass through the Llao Llao Municipal Park.
After the respective instructions (safety talk and paddling techniques) are provided by your guide, you will start your activity.
You will paddle from Bahia Lopez to the entrance of Brazo Tristeza (Lago Nahuel Huapi) from where you can see most of its length. You will stop for a while and observe the Isla Centinela (where the remains of the famous Perito Moreno lay).

Then, you will head towards the opposite shore, from where you will have a marvelous view of the impressive Cerro Capilla, Cerro López, and other incredible mountains of our Andean foothills. On the way you will find rugged coastlines, waterfalls, and deserted beaches where you will stop for lunch to experience the amazing and deep sense of peace while surrounded by part of the strict natural reserves of the Nahuel Huapi National Park. Drinks and energy boosters will be provided. You will return at 1pm or 5pm to your hotel in Bariloche.