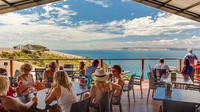 233 €
Kangaroo Island Gourmet Food and Wine Trail Tour
Discover for yourself why Kangaroo Island is renowned for it's wines. Visit two of the island's vineyards, two of the island's gourmet food outlets, and the Kangaroo Island Spirits Distillery on this 8-hour tour.
Kangaroo Island hosts some of the best South Australian wines, tastiest farm gate produce used by Australia's finest chefs, and the most abundant and unique natural beauty to be found anywhere in Australia. Join your tour guide to see the island through a local's eyes, and experience the best the island has to offer.  Lose yourself and discover Kangaroo Island!

Depending on the season, you will be able to visit two of the following vineyards: Bay of Shoals Wines, Dudley Cellar Door, The Islander Estate Vineyards, or Two Wheeler Creek Wines. You will have time to sample some of the locally made wines and speak with the winery staff.

Your guide will compliment your winery visits with two of the following local produce providers:  Clifford's Honey Farm, Emu Bay Lavender Farm, Emu Ridge Eucalyptus, Ferguson Australia, Island Beehive, Island Pure Sheep Dairy, Kangaroo Island Spirits, Kangaroo Island Fresh Seafood, and The Oyster Farm. Seasonality will impact which local produce is available and which providers are best to visit at the time of your tour.

A delicious lunch at either Hannaford and Sachs or Marron Cafe, depending on day of travel and opening hours, is also included in your day to enjoy with your fellow travelers. Lunch does not include drinks.