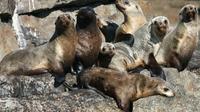 57 €
L'activité n'est pas disponible, essayez une autre recherche !
Jervis Bay Seal and Seacliffs Cruise
Cruise from Huskisson through Jervis Bay and along the coast and see seals, dolphins, Whales (seasonal from May to October), sealiffs and massive sea caves along Beecroft Peninsula. This cruise from Jervis Bay is breathtaking!
Cruising from Huskisson out into Jervis Bay and you can feel that this is going to be a special experience. Jervis Bay itself is amazing; home to beaches with the whitest sand in the world, crystal clear water and an abundance of wildlife. However it's when you leave Jervis Bay through the heads and pass Point Perpendicular that you can marval at sights not seen by the masses.

Huge sea caves and sandstone arches rise out of the ocean and create the perfect picture opportunities fo. When sea conditions are suitable, we can drive inside one of the largest caves and envelope the boat in a sensory overload! The sound of the rushing waves. The fresh smell of the raw ocean activity and the darkness of the inside will amaze you!

Wildlife around Beecroft Peninsula is plentiful with sea eagles, seals and whale (seasonal) sighted. The Australian Fur Seal colony at Drum n Drumsticks provides an opportunity to see these animals in the their natural environment both in and out of water.
On return to Jervis Bay you will glide along the base of the huge sea cliffs rising 100 meters above until you arrive back in Jervis Bay.

If that's not enough for you, you may even be escorted by one of the resident pods of dolphins on the way back into Huskisson.