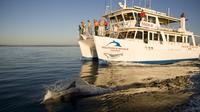 23 €
Jervis Bay Dolphin Watch Cruise
Enjoy the world-renowned dolphin watch cruise on Tekin III - the Spirit of Jervis Bay for the opportunity to see dolphins playing in the crystal clear water of Jervis Bay, home to the whitest sand in the world.
Tekin III - The Spirit of Jervis Bay, is a 17-meter triple deck catamaran boasting five separate viewing platforms that has been designed specifically for dolphin, whale, seal and general wildlife watching. This is Jervis Bay's largest cruise vessel ensuring comfort and saftey in all weather conditions.

Youll meet the friendly local residents, the 100 plus bottle-nose dolphins that live permanently in Jervis Bay and enjoy informative commentary about the local area that is blessed with an abundance of flora and flauna from your experienced skipper.

The Spirit of Jervis Bay is equipped with video monitors, tea and coffee making facilities and a liccenced bar.