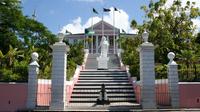 51 €
Island Sightseeing Tour in Nassau
Enjoy a comprehensive island tour in Nassau, Bahamas. This small-group tour will take you to all of the forts, Potter's Cay, Montagu Dock, Inner City and to a rum cake and chocolate factory.
The 2-hour island tour will begin with pickup from your Nassau hotel. From there you will visit Fort Montagu, the oldest of the historic forts, located on New Providence. Then you will visit Fort Charlotte, built by governor John Murray, Lord Dunmore and named in honor of the wife of King George III of Britain. This fort has never fired a shot in battle! Next, visit Fort Fincastle built in the shape of a pinwheel steamer on Bennet's Hill.

After the forts you will visit the water tower, an imposing, concrete edifice constructed in 1928. Next, you will visit the famous Queen's Staircase which is Nassau's most visited attraction. After the Queen's Staircase you will visit Potter's Cay and Montagu Dock to experience a Bahamian marketplace where you will find fishermen and produce vendors selling their goods to locals and tourists alike. Next you will visit Inner City, the Government House, a rum cake factory and a local chocolate factory. Once the tour is over you will be returned to your Nassau hotel.